2 PIECE WHEELS (TUBETYPE)
| Wheel Size | Tire Size | Part Number | Side Ring |
| --- | --- | --- | --- |
| 20 x 6.5 | 900-200 | WA2-2085-KAC | SR-6520-LWE |
| 20 x 7.0 | 900/1000-20 | WA2-2070-KAC | SR-6520-LWE |
| 20 x 7.5 | 1000-20 | WA2-2075-KAC | SR-7520-LWE |
| 20 x 8.0 | 1000/1200-20 | WA2-2080-KAC | SR-8020-LWE |
| 24 x 8.5 | 1200-24 | WA2-2485-KAC | SR-8024-LWE |
Tire sizing may vary among manufacturers. Contact GMI Wheels to ensure proper fitment.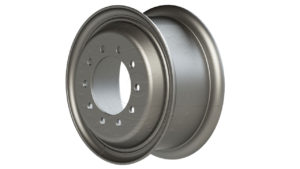 Want the industry's best value? GMI Wheels' 2 piece wheels (tubetype) are cost-effective alternatives to OEM products, featuring superior quality and air seal.
Our 2 piece wheels are perfect for material handling vehicles, terminal tow tractors, bomb cart trailers and mining trailers, and can be adapted for many OTR applications.
Contact GMI Wheels to learn more about our high-value lineup.
CONTACT US